3 Drills to CRUSH your POWER Pickleball Serve
Pickleball is a power sport. Developing a Power pickleball serve requires yuo to be both strong and fast. Power is defined as the amount of work divided by the change in time.
In order to improve power, a pickleball player must possess three things:
Table of Contents
In this article we will discuss the three components of developing a POWER pickleball serve using my favorite three power drills.
POWER Pickleball Serve
Strength is a pickleball players ability to generate force. The slower the movement the greater your ability to generate force. The problem is we want our pickleball serve to be fast.
Any sport that requires a speed component requires a base level of strength. Spending more time building more strength than is required doesn't significantly help your pickleball performance.
For example, a pitcher in baseball who can't perform 10 bodyweight pushups is lacking adequate strength to throw a fastball.
But a pitcher won't likely throw any faster improving a standard bench press from 225-lbs to 305-lbs.
There is a sweet-spot in the middle where a speed athlete has enough strength to do the job, but spending more time increasing strength offers diminishing returns.
Best Strength Exercise for a POWER Pickleball Serve
Wrestling pushups – In the video below you can see a wrestling pushup in action. The reason this version of the traditional pushup is so helpful is because it more closely simulates the arm action of a powerful pickleball serve.
Best Speed Exercise for a POWER Pickleball Serve
Since speed is a component of power, we need an exercise that allows the player to reduce the resistance and increase the velocity. Towel swings are my favorite power exercise to improve a pickleball serve.
This exercise can use a towel, a pillowcase, or in some cases a theraband. 
In the video below I am demonstrating a pillowcase pickleball serve simulation to a patient who had a rotator cuff repair and wants to return to playing pickleball.
Best Range of Motion Exercise for a POWER Pickleball Serve
I specifically use the term range of motion (ROM) instead of flexibility because it is more specific to what we need to perform a powerful pickleball serve.
Flexibility is a component of ROM, but ROM includes more than simply the shoulder's structures ability to stretch. ROM of the shoulder joint is measured in degrees. ROM may be lmiited by connective tissue tightness or muscle tightness.
In the video below I am demonstrating my favorite ROM exercise to a patient who was experiencing symptoms associated with frozen shoulder, also known as adhesive capsulitis.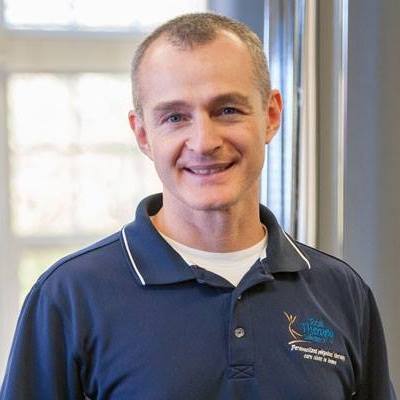 Anthony Maritato, PT
Physical Therapist
Anthony Maritato, PT has been a licensed physical therapist and private practice owner since 2006. Ohio license #PT011602.
Anthony has been passionate about helping patients recover from total knee replacement surgery as well as rotator cuff repair surgery.