When and How to Shower After Knee Surgery: Post Surgical Instructions
Timeline
Consult your surgeon or surgical team before showering. They will provide recommendations specifically for your post-surgical situation.
Dr. Paul G. Kiritsis, M.D. suggests his patients are allowed to shower 2 days after total knee replacement surgery. If you would like to see more of Dr. Paul G. Kiritsis, M.D.'s post-surgical care instructions click here.
Other sources will suggest waiting 14-days before showering after total knee replacement surgery. Some surgeons will recommend a sponge bath during this time.
Safety Equipment
It may be helpful to have some safety equipment on hand before you take your first shower following a total knee replacement surgery. Here is a list of equipment I would recommend depending on your mobility and balance.
Shower Chair
Grab Bar
Long Handle Reacher / Grabber
Skid Resistant Footwear
Push Button Notifications or Voice Activated Notifications
Antimicrobial and Antiseptic Soap or Skin Cleanser
Clean Washcloth
Inspect Your Dressing
After a total knee replacement, patients would inspect their dressing daily. Look for signs of excessive seepage or bleeding. Look for tunneling through the border of the dressing. In the image above you can see the beginning of a tunnel that would allow water to enter the side of the dressing if it continued.
Track Changes
A great way to monitor changes in healing or the dressing is to take daily photos using your smartphone. Taking photos of the front, sides, and back of your knee daily will help you monitor for changes in skin coloration, swelling, dressing integrity, and possible bleeding.
Keeping Your Knee Surgery Incision Dry
Knowing when you are allowed to shower and how to shower after knee surgery may help improve healing and avoid infection. 
One common piece of advice is to keep your post-surgical incision clean and dry for up to 6 weeks after surgery or until your wound is completely closed and shows no sign of drainage or bleeding.
One way to keep the wound dry is to use a semi-permiable dressing that allows moisture out and oxygen in. Some of these dressings include zinc oxide to reduce infection risk.
Best Water Proof Dressing:
MedVanceTM Silicone – Bordered Silicone Adhesive Foam Dressing Size
Some surgeons may apply a semi-permeable dressing over the post-surgical incision following a total knee replacement.
Bonus Tip
If your surgical team provided you with a waterproof dressing, I would request a replacement dressing just in case the original dressing gets compromised by excessive bleeding or gets torn.
If your surgeon did not provide you with this kind of post-surgical dressing you should ask your surgical team if it would be okay to purchase this which might allow you to shower during the first week of recovery.
What Kind of Soap Should You Use?
Follow your surgeon's recommendations for the type or brand of soap to use after total knee replacement surgery.
Several of my patients have used Hibiclens – Antimicrobial and Antiseptic Soap and Skin Cleanser – 8oz – for Home and Hospital – 4% CHG. Dial soap is a more common soap brand that includes Benzalkonium chloride, an antibacterial ingredient.
Don't Aggressively Scrub the Incision
In the photo below you can see the blue ink and residue from a total knee replacement surgery. I know how tempting it is to start scrubbing that with soap, water, and a washcloth, but most surgeons will recommend you do not aggressively scrub your incisions until it is completely healed. This could take 6 or more weeks in some cases.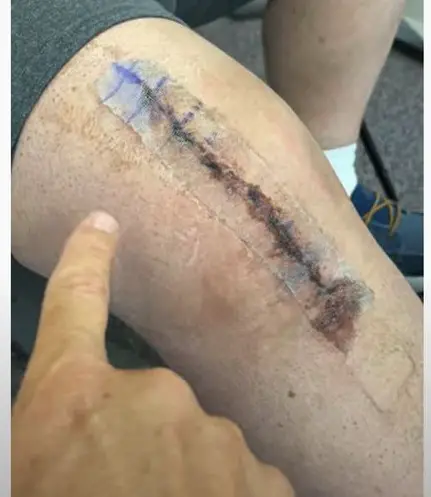 If you want to clean the skin around your incision the best option is to use a warm, clean washcloth with your choice of antibacterial soap. Gently wash the surrounding skin with lukewarm water. Do not submerge your surgical knee.
How to Shower After Knee Surgery: Equipment
Long Hose, Handheld Shower Head
Buying a handheld shower head with an extra long handle may be something that really helps patients following a total knee replacement surgery. When my mother had difficulty standing in the shower, we purchased a shower chair, but then the handheld shower head hose was too short to comfortably reach around her body. 
I would recommend a minimum length of an 8-foot-long hose.
Best High Pressure, Handheld, Shower Head Set with Extra Long Hose
Best Shower Chair
HydroGlyde Premium Heavy Duty, Padded Sliding Bathtub Transfer Bench and Shower Chair
This is a really great device. Even if you don't have a bathtub shower a combo device like this would be great to allow you to transition from the shower to the toilet. The elevated commode site also makes standing from the commode easier for individuals following a total knee replacement.
Best Grab Bar
Having a permanent fixture grab bar professionally installed is the best way to ensure safety, but I realize that not every person will need a prominent grab bar. I have personally purchased these suction grab bars and used them on bathroom sink countertops and smooth tile walls with great success.
DAREN MEDICAL Heavy Duty Suction Shower Grab Bar – Toilet Bathroom Bathtub Safety