When can I switch from a walker to a cane?
Between 10 and 14 days after total knee replacement surgery, most patients have switched from a walker to a cane.
Of course, some patients never use a cane and just progress from the walker to no assistive device after a couple of days, while other patients depend on the walker for 6 weeks or longer.
In this video, my patient is transitioning from a walker to a cane for the first time.
What is the best kind of cane to use?
The best type of cane to use after your total knee replacement surgery is an adjustable, single-point cane with an offset handle.
The reason this is the best cane for most people is that it allows for the easiest transition to unassisted walking.
If you find that you need more support than this cane provides you may be better off sticking to the walker until you have built enough strength and stability in your knee replacement to confidently support your body weight.
Does insurance pay for a cane after knee replacement surgery?
If your insurance already paid for a standard, forward-wheeled walker then it won't likely cover the cost of a cane.
If you can not afford a standard cane you may talk to services like GoodWill and Salvation Army. Some cities and churches also offer medical equipment closets or libraries where you can borrow the device you need for no cost.
For more information about Medicare insurance coverage reference the Medicare Coverage of Durable Medical Equipment and Other Devices. Screenshot below.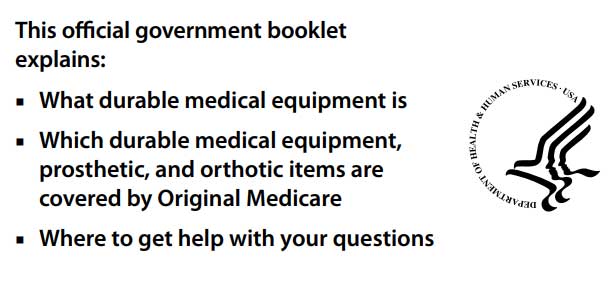 Should I still use the walker at night?
For your personal safety, it is often recommended to keep your walker at the bedside for those middle-of-the-night trips to the bathroom.
It is also helpful to have the walker near your bed for early morning activities during the first 12-weeks after surgery.
Early morning is usually when you will experience the most stiffness. This stiffness results in more difficulty with balance and coordination.
Keeping a walker handy for early morning may reduce your risk of falling after your total knee replacement.
Which assistive device is BEST following a total knee replacement?
Forward Wheel Walker
In the United States, a forward wheeled walker is the most common assistive device used upon discharge from a total knee replacement surgery.
A walker provides the most stability and support while still providing moderate levels of mobility.
A walker is lightweight and easy to maneuver.
Below is a link to both a standard walker and a premium walker.
Straight Cane
A straight cane or single-point cane is the most common assistive device to use after a walker. 
If you find that you are simply gliding the walker and not leaning on it and sometimes you are completely forgetting to use the walker at all then you may be ready to transition to a cane or no assistive device.
* Walking Poles are another great option for someone who wants modest support while maintaining a more upright posture.
Crutches
In some European countries, crutches are common after a total knee replacement. Crutches may be a great option for a younger patient or a more agile patient. Crutches may also work well in narrow spaces.
The drawback to crutches is that they do require more coordination in my experience and they are more challenging for heavier body types.