Knee Replacement Bending Flexion Exercises at Home
Knee bending exercises, also called knee flexion, may be performed at home immediately following knee replacement surgery. Heel slides are the most common form of knee flexion exercise.
In this video, you will learn more advanced knee flexion exercises to perform at home as your range of motion improves.
What exercises should I do at home to improve knee flexion? 
After your surgery, a physical therapist will teach your how to perform heel slides and other knee flexion exercises to perform at home.
Knee flexion is your ability to bend your knee. The "normal" range of motion following a total knee replacement may depend on the implant used. Most often 120 degrees of flexion and 0 (zero) degrees of extension are considered the full range of motion.
Best Knee Flexion Exercises After Knee Replacement
1.) Wall Slides – While your position yourself lying on your back, you would allow your feet to rest on a wall or the headboard of a bed. As you relax your legs your feet would slide down the wall.
2.) Seated Heel Slides – While sitting in a chair, you would slide your foot back toward the chair. You would hold this stretch position for 30-seconds before releasing the pressure for 30-seconds then repeat the exercise.
3.) Supine Heel Slides – Laying on your back, you will slide your heel toward your hip. To assist this exercise, you may place a strap around your foot or ankle to help pull your heel toward your hip. Once you feel a stretch you will hold that position for 30-seconds before releasing the pressure for 30-seconds.
4.) Ball Rollins – While laying on your back, your heels will rest on the center of a physioball. Using your hamstring muscles to flex your knee the ball will roll toward your body. Hold the stretch position for 5 seconds before releasing the pressure and allowing the ball to roll away from your body.
5.) Foot-on-Step Stretch – Standing in front of a step, you would place your foot on the step. Leaning toward the step your knee will bend into a stretch. Hold the stretch position for 30-seconds before releasing the pressure for 30-seconds. Repeat this stretch 10-15 repetitions.
6.) Stationary Bike – Using a stationary bike you may choose to start with a rocking motion to loosen the knee and warm up the joint. After rocking the pedals for 3 minutes position the seat close enough to the pedals that allows you to place a sustained stretch on the knee for 30-seconds. Then release the stretch for 30-seconds before repeating. Spend 10-minutes performing this exercise.
7.) Partial Kneeling – Once your surgeon or therapist approves you to perform kneeling activities you may start with partial kneeling on a bed or soft couch. Using a half kneel or quadruped position allows you to control how much pressure is placed through the knee. Adding a pillow will allow you to add pressure to the shin without adding compression to the knee. Perform this activity for 20-second episodes for up to 5 minutes.
Why does the inside of my knee hurt when I flex?
During surgery, a superficial incision is made over the center of the knee, and an internal incision is made to the medial aspect of the knee cap.
The internal incision can often cause pain and tightness on the medial (inside) of the knee.
Massage, compression, kinesiotape, and cupping are just a few ways to reduce the pain at the medial aspect of your knee while bending.
About the Author -
Anthony Maritato, PT has been a licensed physical therapist since 2006. He specializes in post surgical care and rehabilitation of total knee replacement and rotator cuff repair surgery.
Mr. Maritato is also nationally recognized as a therapist educator teaching courses related to Medicare reimbursement, contracting, and documentation.
Total Therapy Solutions LLC is Tony's primary practice which he owns with his wife Kathy who is also a licensed physical therapist.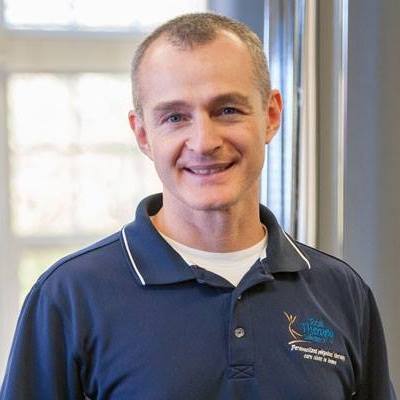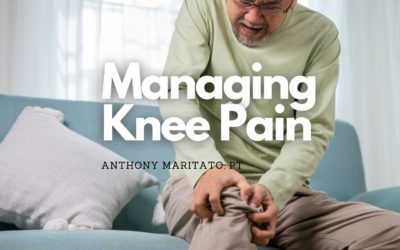 Introduction to Managing Pain After a Knee Replacement Undergoing a total knee replacement is a significant medical procedure that can dramatically improve your quality of life. However, the journey to full recovery involves navigating through various challenges, one...
read more