How Common Do People Fall After Knee Replacement Surgery?
A fall after knee replacement surgery is fairly common. One study found that "the number of falls reported following TKA ranges between 14.1 and 38.3%." Link
What can cause a Fall After Knee Replacement
Early Stage Recovery – Pain, Stiffness, Limited Range of Motion

Decreased or Slowed Reaction Time

Low Blood Pressure with Changes in Body Position

Pain Medication-Related Dizziness

Impaired Proprioception

Nausea
Strategy #1: The Stairs Method
If you find yourself on the floor and you can crawl or scoot to a flight of stairs you may use the stairs method to get back up.
Upstairs
The easiest situation is you find yourself on the floor near the top of the stairs. In this case, you would scoot to the top of the staircase and allow your feet to descend the stairs. It is recommended that you do not try to stand at the top of the staircase. Instead, descend the staircase with your feet leading the way, lowering yourself down each step one at a time while you remain seated on each step.
Once you get to the second or third step from the bottom your feet will be firmly placed on the floor and you may use the handrail to return to a standing position.
Downstairs
If you find yourself on the floor at the bottom of the staircase, you will attempt to scoot to the first step, and using your upper body, lift yourself to a seated position on the first step. Then continue to lift yourself up one step at a time to the second or third step until you are able to position your feet firmly on the floor and pull yourself to standing with the banister or handrail.
Strategy #2: The Chair Method
If you don't have stairs, a chair or couch may be the best next option. If a person can scoot over to a chair or couch and leverage your torso against the couch it might be enough to slide up onto the seat.
In the case of a chair, I have seen clients lay a chair on its side to lower the profile and use it to push up from the floor.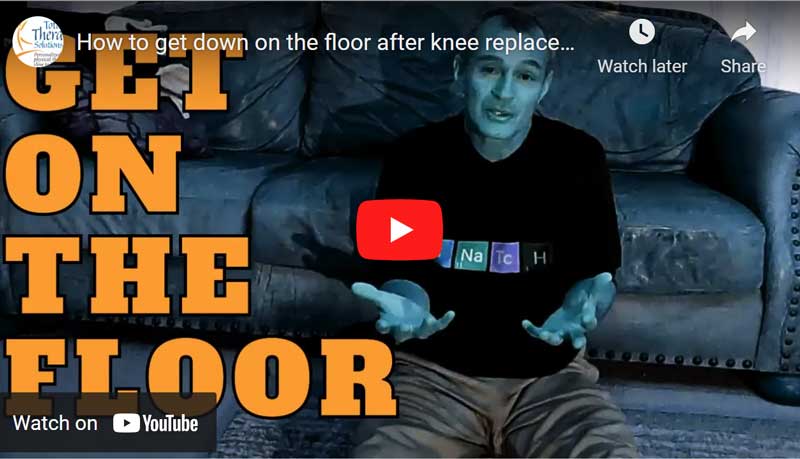 Strategy #3: Equipment
There is some equipment sold specifically to help lift people from the floor. The cost of this equipment can range from $40 to $4,000. Here are a couple of my favorite examples.
Self-inflating Mattress
iDOO Air Mattress, Inflatable Airbed with Built-in Pump
Battery Powered Lift Chair
My favorite of all devices is this battery-powered lift chair. It does not require an electrical outlet if the battery is charged and can be used in the house or in the yard.
The chair was originally designed for use in a bathtub, but it works incredibly well to help individuals get down on the ground safely as well as get up off the ground after a fall.
I have been using this device in my clinic for more than 2 years now. It is a little heavy, but that is due to the 300-lbs lift capacity and amazing build quality.
I would recommend this device for anyone living alone or with someone who is physically incapable of helping you off the floor.
Final Thoughts on A Fall After Knee Replacement Surgery
In my clinical practice, I have found that the fear of falling is often a powerful predictor of actually falling. Link 
Reduce the Risk of Falling
In my physical therapy clinic, one of the best ways to reduce the risk of falling is to reduce the fear of falling. I can dramatically reduce the risk of falling by educating my patients on how to fall safely and how to get up from a fall if it happens.
Build Confidence
Another great way to reduce fall risk is to increase confidence in what the knee can handle. During physical therapy, you and your therapist should spend time working on balance and coordination. Building your confidence in what the knee can handle as well as practicing your ability to get down and get up from the floor.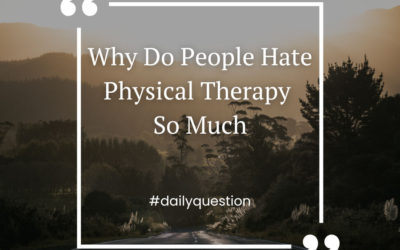 Do people REALLY hate physical therapy? A recent Quora post I saw asked the question "Why do people hate physical therapy so much?" I think it boils down to a loss of control and the following three aspects: not knowing what to expect, not knowing how much it will...
read more